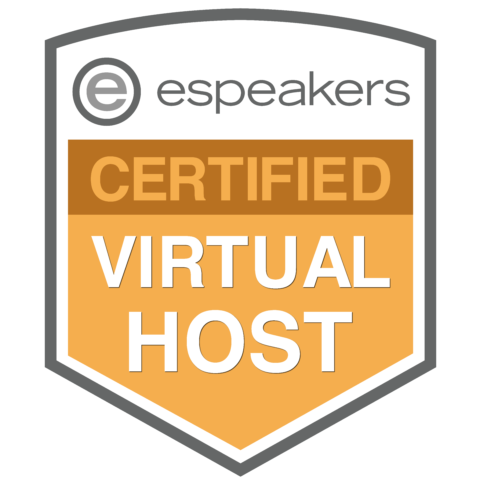 Earn the most advanced certification for professionals hosting virtual meetings/events.
Are you looking to spice up your presentations and become a virtual speaker your audience will never forget? Becoming a trusted virtual host started with completing the eSpeakers Certified Virtual Host course. This 8-hour live online program is led by an experienced instructor and will teach you everything you need to know about impactful, unforgettable hosting virtual meetings.
By the end of this course, you'll understand how to make your meetings more engaging, interactive, and fun for attendees, and you'll learn advanced hosting and production tricks in Zoom.
We recommend this course for professional development for:
Teachers leading a class of students
Coaches facilitating virtual groups
Speakers presenting to a remote audience
Managers leading distributed teams
Upcoming 2023 Sessions
The online course is a live instructor-led course. All courses are taught in English, and class size is limited. 
The course is completed over 5 days with 3 hours of live class each day. You get the exact same content in any session.
---
Next Session
The class comprises 15 hours of instruction and practice over 5 days, with recordings included:
January 5,9,12,16,19 (Thursday, Monday, Thursday, Monday, Thursday)
10:00 am – 1:00 pm Pacific Time / 1:00 pm – 4:00pm ET
COURSE FEE
Your investment for this course is $995 USD. This includes fifteen hours of live training and the certification assessment. On completion of the training, you'll be assessed and then receive your badge on success.
Training Course Outcomes
With hands-on interactive exercises and use of technical tools, you'll learn how to properly lead an exciting and entertaining virtual event
All presentations in the training course will be recorded so you have them to review later for your benefit. By the end of the course, we feel confident that you will:
Have a strong online presence that engages attendees and elevates your presence in a virtual meeting. It will also and builds your confidence and create a high level of competence, trust, and credibility.
Master the best practices of virtual meetings. When you incorporate the exercises that keep people attentive, enthusiastic, and engaged, you gain more attention.
Differentiate yourself in a crowded market. You will earn the eSpeakers Certified Virtual Host badge to display on your website, business card, etc.
Practice using new Zoom meeting options in a supportive community of your peers, before trying them on a live audience. This can also grow your confidence and ability to switch things up during your presentations and keep your audience engaged.
Understand interactive exercises that target Visual, Auditory, and Kinaesthetic learners.
Learn advanced virtual whiteboard and collaboration techniques.
Develop engaging activities for collecting contributions from a team.
Better understand scheduling and sending calendar invitations before hosting your own meeting.
COURSE OVERVIEW
The eSpeakers Certified Virtual Host course is comprised of four different sections: The people, the place, the purpose and the practice.
SECTION 1 – THE PEOPLE

The 3 types of learners

Exercises that engage virtually

Moderating Breakout Rooms

Conversation-starting questions

SECTION 2 – THE PLACE

Backgrounds, lighting, and sound

Handling digital assets and links

Sharing screens, videos, recording, and external devices

Calendar invites and registration

SECTION 3 – THE PURPOSE

Icebreakers that invite a momentum of contribution

Open-ended questions to facilitate deep discussion

Collaboration techniques for harnesses ideas of the group

Introspective exercises to align your purpose

SECTION 4 – WE PRACTICE

You share videos, whiteboards, desktops, and slides

We troubleshoot problems together

You practice until you feel confident

People love to come to your virtual presentations
PREREQUISITES
Before you can complete the course and become an official virtual host, you must meet the prerequisites which include:
Those interested in becoming a Certified Virtual Host must have completed the certificate to earn the title of an eSpeakers Certified Virtual Presenter (CVP). If you haven't earned that certificate yet, you can schedule your assessment today.->
Since this course is taught over Zoom and is highly interactive, it's in your best interest to have areliable Internet connection during each session.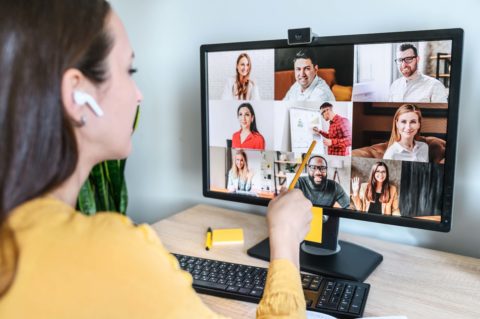 By the end of this course, you will learn how to…
Put people at ease with icebreaker exercises
Encourage people to contribute their creativity
Automate email reminders and calendar invitations
Create post-event surveys to automate the collection of feedback
Optimize your computer bandwidth to get the clearest connection
Host digital workbooks and share PDF links
Redirect attention when the conversation goes off track
Practice using breakout sessions gracefully
Check in and activate listening skills
Avoid the awkwardness of your audience members talking at once
Train your attendees on using the Zoom tools
Use practical techniques to keep your participants from multitasking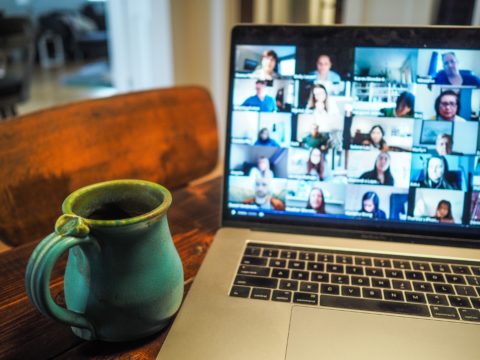 "The training for the Certified Virtual Host is more than just training. Caelan delivered technical aspects of using Zoom, human interactive tactics to keep the audience engaged and on track as well as 3rd party tools that will enhance any virtual meeting through amazing engagement. The power of this program goes far beyond just knowing how to do a great virtual meeting – this training teaches you how to bring rhythm, information, and engagement to a new level. I learned that just because you can "DO" a virtual meeting – doesn't mean you're effectively "DELIVERING" an experience to the audience."
– Mike Brian
"I was interested and excited in doing it and learned new and learned what I already knew and really liked my little buddies learning with me….Caelan was patient and I loved that he too made mistakes."
– Kevin O'Connor, CSP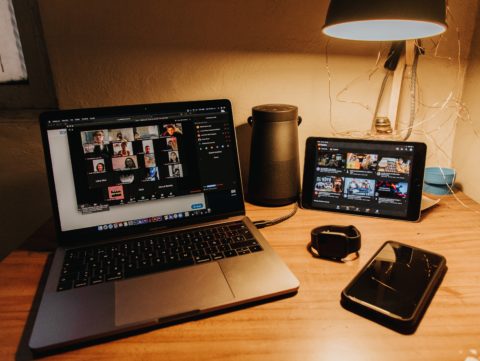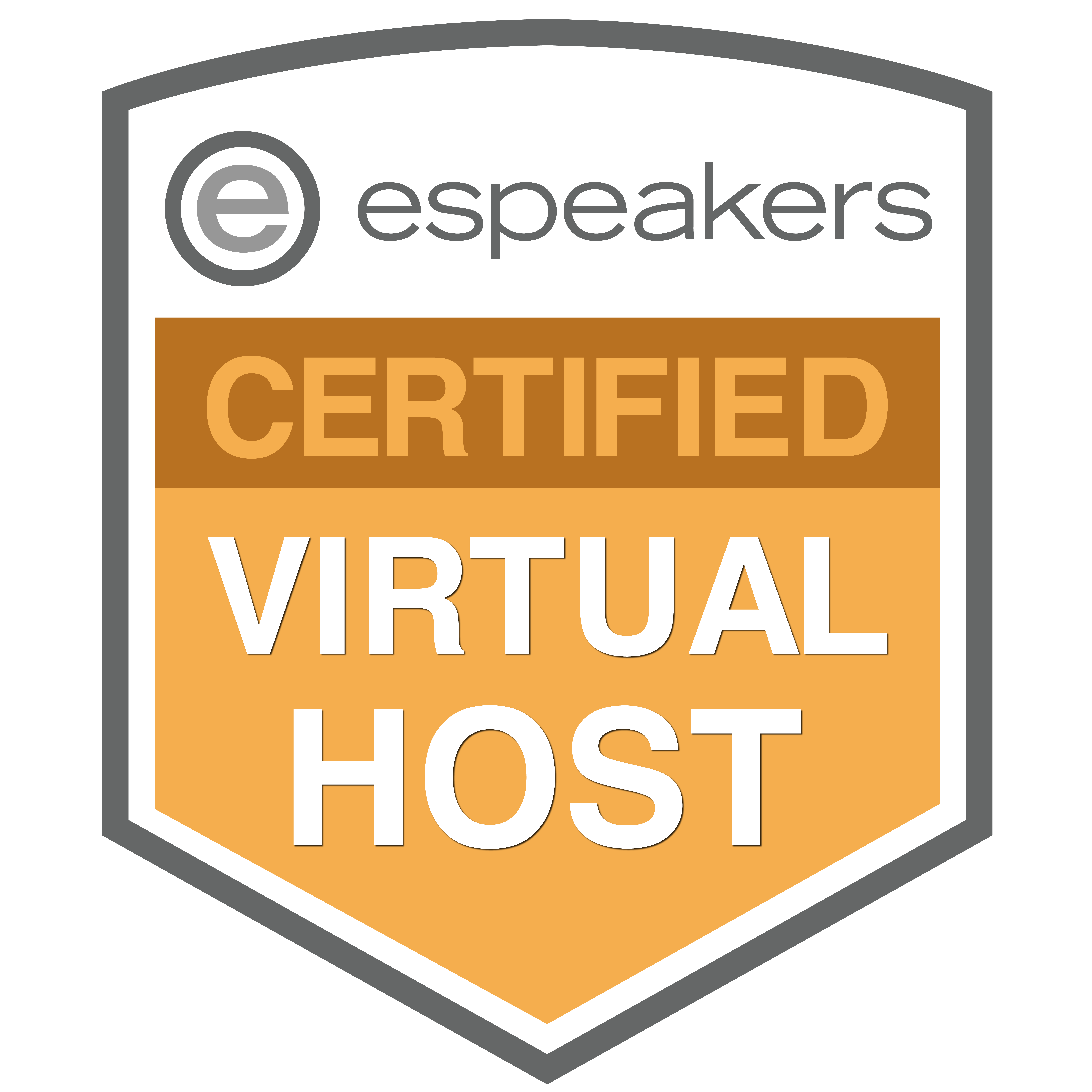 Your Certified Virtual Host Badge
After attending all the sessions of your training course, you must be assessed by your instructor to earn your badge.
Record a live meeting that you host where you demonstrate the skills learned throughout the course, then send the recording to your instructor. If your instructor is satisfied, they will recommend that you are awarded the certificate and the right to use the badge in your marketing.
The badge will be added to your eSpeakers profile automatically, and you will have the right to display the badge on your website, email signature, and other marketing material.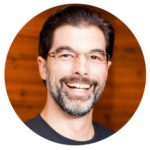 Hi, I'm Caelan Huntress, and I'm a marketing strategist for entrepreneurs. What's unique about me is that I started my career as an acrobat in the circus. What I've learned about earning and retaining attention is reflected in my work as a professional virtual speaker. Because I'm a rare blend of artist and geek, I can also dive deeply into all the tech that makes a virtual meeting work smoothly.
After years of hosting, producing, and engineering live webinars, I have collected and documented dozens of practical techniques for keeping a virtual audience engaged and interested.
Are you ready to get started? Click here to enroll in our upcoming course sessions.
Classes will fill up -- secure your seat now